League of Legends (LoL) superstar Lee 'Faker' Sang-hyeok has just had a very awkward moment relating to nudity on his Twitch stream. Some NSFW pictures suddenly popped up on his screen while he was streaming, and he had to act quickly to avoid a ban for him on Twitch.
Faker is the superstar mid laner for the Korean LoL professional team SK Telecom T1 (SKT). This pro gamer has won the world championship 3 times with SKT, with many other domestic and international trophies. He is the best mid laner in LoL throughout the history of this game, and perhaps still the best now.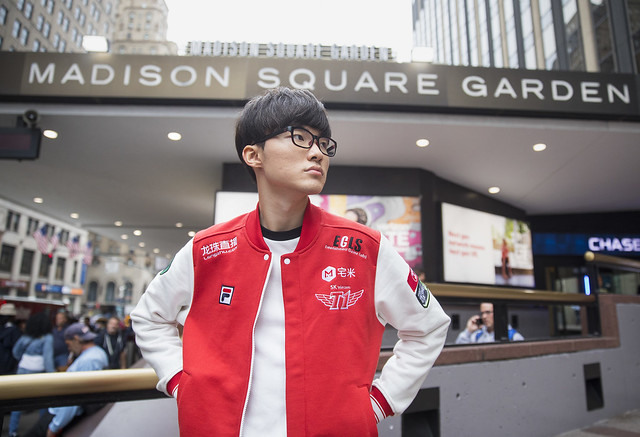 Lee 'Faker' Sang-hyeok
On a recent stream of Faker, this pro gamer was waiting for the client of the game LoL to load him to the champion ban-pick phase of his next ranked match, when the incident happened. For high elo players like Faker, the waiting time to find a ranked match is normally quite long. So he turned on the game Prison Architect to kill the time while waiting for the next match.
However, out of nowhere, a series of NSFW picture popped up on his screen, seemingly from the game. Obviously, Faker did not see this coming, so he had to remove all of them out of his screen as quickly as possible. From the video below we can see that he got some panic while the pictures first appeared on his screen.
After he managed to remove all the NSFW pictures, Faker admitted that the game Prison Architect might not be an appropriate game for his livestreams, especially when his streams are being watched by a lot of children.
Perhaps our superstar mid laner will not get any bans from Twitch for this action, but we obviously don't want to see Faker got into any kind of similar problems.
Note: This article reports news and photos that were publicized on social media or official channels of streamers for entertainment purposes only. Any information or comments that may cause misinterpretation, defame or distort the image of subjects involved will be REMOVED immediately once noticed. Please contact us at advertise@gurugamer.com for further actions. Thank you.
>>> Visit GuruGamer.com for more gaming news and reviews!