After an exciting finale, the Fall Split of the long-running Free Fire India Championship 2021 has finally ended. Team Elite coming out on top and claim their first every official title of India Free Fire Champion. In this article is everything about FFIC 2021 Fall Grand Finals, including recap, MVP, prize pool distribution, and more.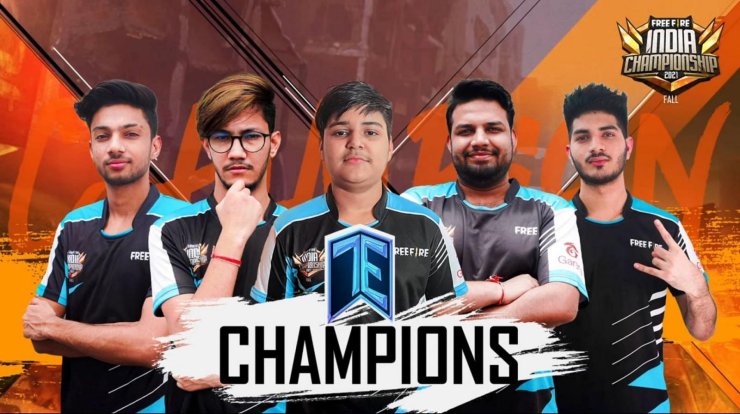 Team Elite wins FFIC 2021!
1 - FFIC 2021 Fall Grand Finals Recap
Results
The finals were extremely exciting, with a peak concurrent viewership of 500k. It was a hard-fought battle with Team Elite and PVS Gaming going head-to-head. Total Gaming has not disappointed its fans with a 3rd place finish. Desi Gamers managed to clutch out the 4th spot, with only 6 points more than Blind.
Blind Esports, despite having a good run in previous rounds, did poorly today. They ended up not making the top 4, which rewards tickets to the Asia Championship. TSM and 4 Unknown are also underperformed.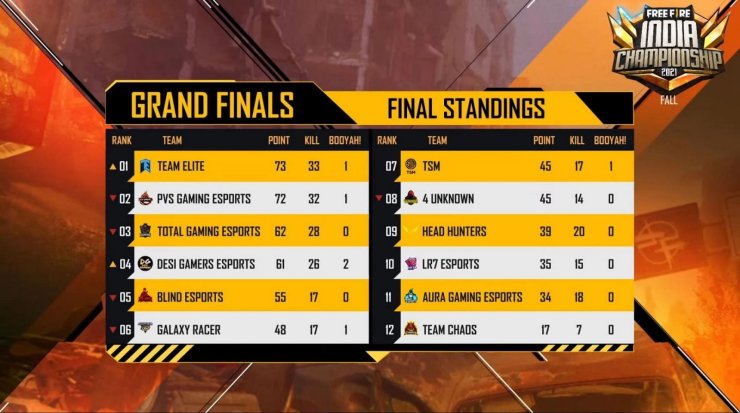 Final Standings of the FFIC Grand Finals
Match Recap
The first match of the day in Bermuda was won by TSM. However, they chose to play safe and only managed to score 3 kills. LR7, the runner-up, has a whopping 8 kills.
The second match on Purgatory was claimed by Team Elite with 6 kills. Their star player Iconic became MVP with 5 of that. PVS topped the match standings, however, with 12 kills.
Galaxy Racer claimed the third match with 12 kills. Meanwhile, PVS once again secured 2nd place, with Total Gaming third. GR sadly was not able to replicate this in later rounds, which results in them placing sixth.
PVS Gaming finally coming out on top in the 4th match with 8 kills. They managed to out-heal Total Gaming in the final circle.
Desi Gamers won the 5th match with 7 kills. Blind Esports finally managed to get into the top 3 with 3 kills... while 4 Unknown came third.
The final match of the day was claimed by Desi Gamers with 11 kills. Team Elite secured 2nd place with 10. Elite's Killer elimination of Blind players was crucial to Team Elite's victory.
2 - FFIC 2021 Fall Grand Finals MVP and Prize Distribution
MVP
TE Killer, despite dealing much less damage than his teammate Iconic, claimed the 1st MVP with a whopping 14 kills. The other spots are divided between Total Gaming and PVS.
Team Elite Killer- 14 kills
 PVS Ecoceco- 12 kills
Team Elite Iconic- 11 kills
Total Gaming Mafia Bala- 10 kills
Total Gaming Delete - 10 kills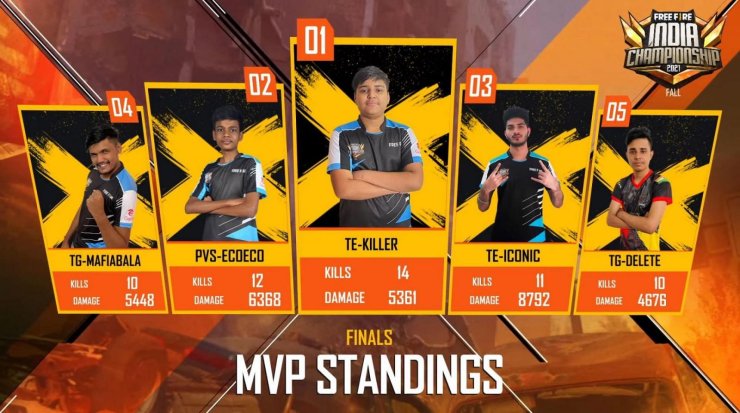 Top 5 best players in FFIC 2021 Fall Grand Finals.
Prize Distribution
The champion, team Elite, got the lion's share of the 75,00,000 INR prize pool. The top 4 teams of this tournament will participate in the Asia Championship 2021. Its Play-ins will be played on 20th and 21st November while the finals are scheduled for 28th November.
1st Place (Champions): 35,00,000 INR - Team Elite
2nd Place (1st Runner-up): 15,00,000 INR - PVS Gaming
3rd Place (2nd Runner-up): 7,00,000 INR - Total Gaming Esports
4th Place: 6,00,000 INR - Desi Gamers Esports
5th Place: 3,00,000 INR - Blind Esports
6th Place: 2,50,000 INR - Galaxy Racer
7th Place: 2,00,000 INR - TSM
8th Place: 1,50,000 INR - 4 Unknown
9th Place: 1,00,000 INR - Head Hunters
10th Place: 1,00,000 INR - LR7 Esports
11th Place: 50,000 INR - Aura Gaming Esports
12th Place: 50,000 INR - Team Chaos
Interested in more of our articles related to Garena Free Fire? Please check out this post to know Free Fire Golden Ascension: How To Get M1887 Golden Glare And Flaxen Megacypher Bundle