Free Fire Max, the high graphics version of Free Fire, is releasing globally today, September 28. It brings a lot of new features such as better graphics and an animated lobby, however, the most anticipated one is probably Craftland. This is a new creative mode that allows players to make their own maps. In this article, we are going to showcase a complete guide for the new Craftland mode of Free Fire Max.
Free Fire Max's new Craftland mode
1 - About Free Fire Craftland mode
This is going to be an exclusive feature of Free Fire Max - players using normal Free Fire won't be able to play. Craftland is not free: to create a map, you need to buy a Creation Workshop card from the Free Fire store for 100 diamonds. Garena will give the first few cards away for free, however, players need to buy or wait for events to get more after they run out of cards.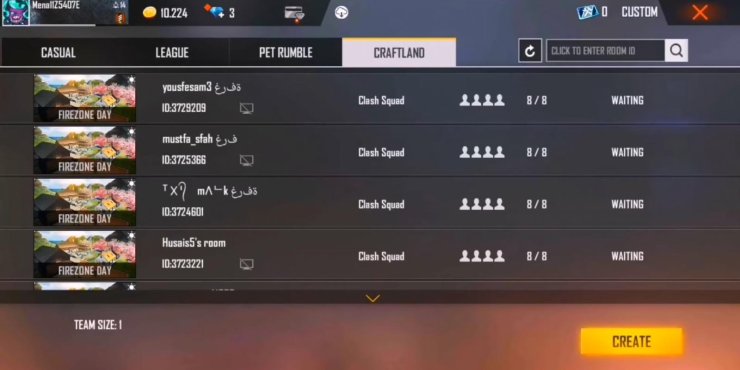 You can join other players' Craftland custom maps.
The Free Fire Craftland workshop will allow you to freely create content in your creative games and "create your own Free Fire" of sorts. While all players can edit and create maps, they need to have a custom room card to play with friends. Overall, this is a fairly greedy feature that not all players can afford.
2 - How to create your custom map in Free Fire Craftland
The mode offers a number of elements for players to select and customize, like terrain tools, objects and different buildings. Once they have completed customizing the map, players can pick the modes that will be available. In addition to the usual Clash Squad mode, Craftland users can also play other custom modes like Cold Steel and Big Head.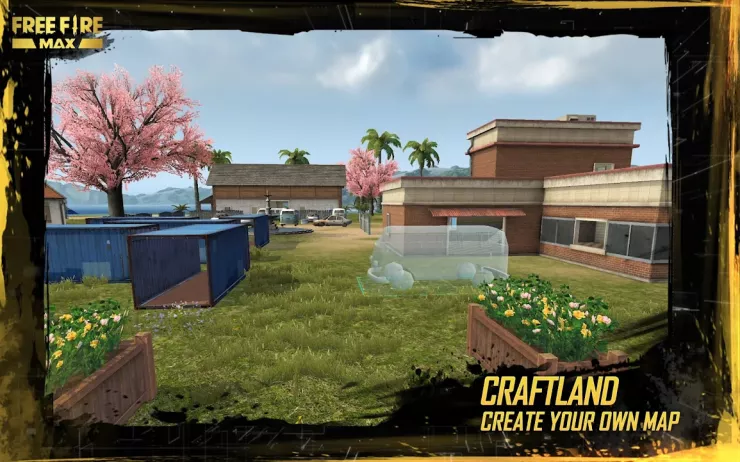 New Craftland mode in Free Fire Max
The control in Craftland is fairly straightforward - just select items from a menu and place them on the spot you want. The number of objects you can place varies - it is likely that Garena would add more items to the list in the future.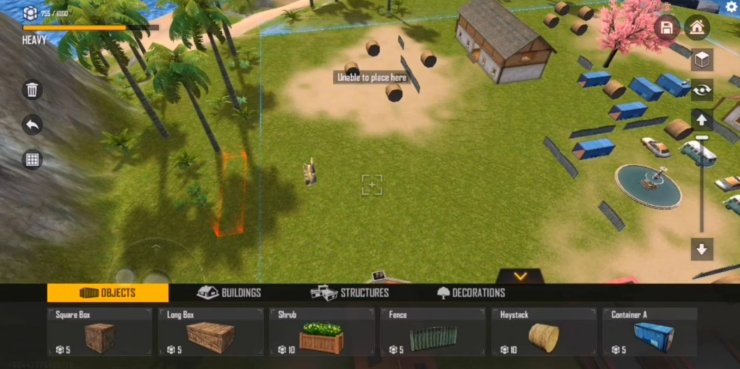 Most of the objects in this mode are from the Bermuda map.
Currently, there are four categories: objects, buildings, structures and decorations that contain assets from the Bermuda map. You can place as many objects as you want on the map. To create a good map, it is best that you follow a symmetrical design and make both sides of the map balance each other.
Expect to spend a lot of time in the design menu, as the controls are pretty clunky. On the right side are the buttons to rotate and place objects, along with a slider to zoom in and out. On the top right is the save button. Remember to press it once you have completed to save your progress. On the left side are the buttons to remove objects.
Interested in more of our articles related to Garena Free Fire? Please check out this post to find out more about the Top 5 Tips And Tricks To Win Squad Vs Squad Fights In Free Fire.