While GTA 5 was released almost a decade ago, it is still a fairly demanding game. Rockstars have constantly upgraded the game to keep up with modern standards, adding tons of graphics settings and visual effects. While this might sound like a good thing, it gets increasingly harder for players with potato PCs to play the game. In this article, we are going to show you how to run GTA 5 on low end PCs.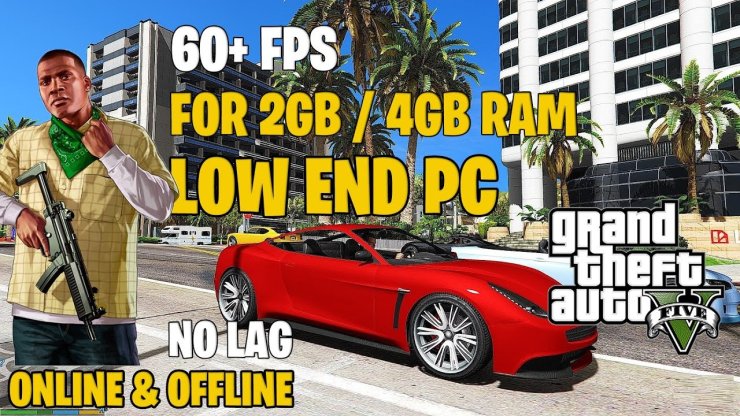 This guide would show you how to run GTA 5 smoothly on low end PC
How To Run GTA 5 On Low End PCs?
1 - Use Cheat Engine
2 - Use Graphics Mods
3 - Change PC and in-game settings 
Before you start implementing these changes, you need to ensure that your PC is strong enough to at least run GTA 5. While there are ways for PC weaker than the minimum requirements to run the game, playing GTA 5 at super low graphics is just not worth the time.
GTA 5 Minimum Requirements
Processor: Intel Core 2 Quad CPU Q6600 @ 2.40GHz (4 CPUs) / AMD Phenom 9850 Quad-Core Processor (4 CPUs) @ 2.5GHz
Video Card: NVIDIA 9800 GT 1GB / AMD HD 4870 1GB
Memory: 4GB
HDD Space: 90GB
Now, without further ado, here are the best method to improve GTA 5's performance on weaker systems.
1 - Use Cheat Engine
Cheat Engine is a free cheating software that you can use to speed the game up. You download Cheat Engine from its home page at cheatengine.org and install it on your PC.
Firstly, run the game and make sure you load up completely in the save house. Minimize the game and open Cheat Engine. Click on a small computer icon at the top left corner to display all the current processes ongoing on your PC. Select GTA 5 game and click on the "Enable Speed Hack" button.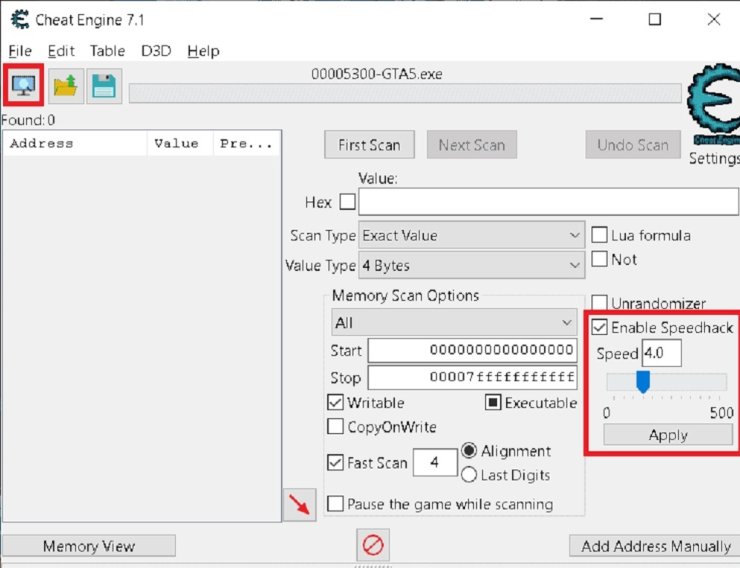 Use Cheat Engine To Speed Up Gta 5
This hack is actually a rather forced method so that your slow PC could load GTA 5. It will speed up the game so much you won't feel the lag anymore. If you are playing it on extremely low-end PC then set the value anywhere between 5-8, playtest, then reduce if needed. The audio of the game is ruined with speedhack, so it's best to turn it down or off. This is the brute force answer to the question of "how to run GTA 5 on low end PCs".
2 - Use Graphics Mods
There are various mod scripts that you can use to reduce lag or downgrade your graphics. Most of the mods work by activating the hidden graphic configurations that's locked out in the release version. The result can look like this: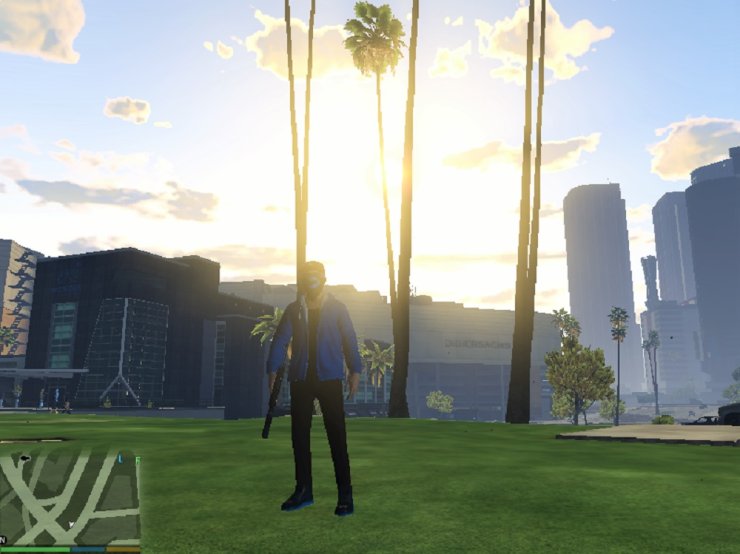 GTA 5 graphics mod can let you play the game... at a cost
Most of these mods can be downloaded from Gta5-mods.com, the most reputable mod page of the game.
The best mods for low end PCs are HD Low End (for middle-low end tier), Very Low End PC Setting (for even lower end) and Extreme Low End PC Settings (512Mb VRAM) for the extremely abyss of low end. After installing these mods, you should be able to play GTA 5 on PS2 graphics. Instructions for installation are inside the downloads files.
Guide on How To Run GTA 5 On Low End PCs
3 - Change PC and in-game settings
PC settings
Before optimizing the in-game settings, you need to deal with the PC settings. Firstly, it is recommended to disable the fullscreen optimizations and enable the high DPI settings for  the GTA 5 application using the steps below.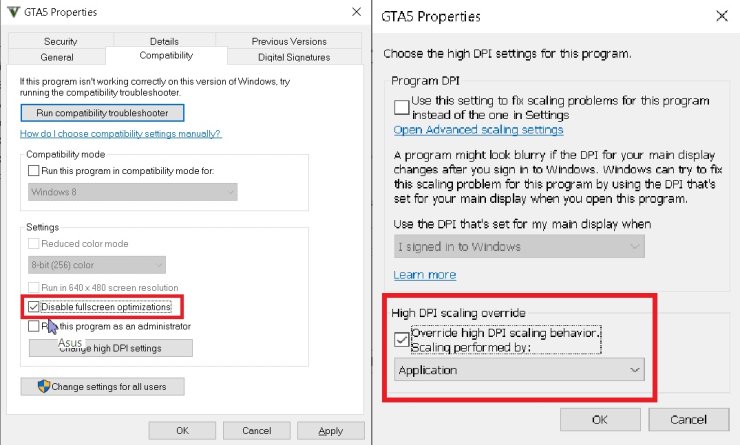 Disable Fullscreen Optimizations For Gta 5
Go to your GTA 5 folder, and right-click on GTA 5 application, and select Properties.
Find the disable fullscreen optimization option in the Compatibility section. Select it and click on Change high DPI settings.
Select "Override high DPI behavior" and click on Ok to save it.
Apply the same properties for GTA 5 launcher and PlayGTAV.
Furthermore, you should turn off all other applications and redundant processes on your PC while running GTA 5, using Task Manager.
>>> Read more: Top 10 GTA 5 Mods For PC In 2021
Game Settings
Once you have completed the above PC settings, it is time to start GTA 5 and tinkering with the in-game settings to boost the game's performance. Just follow the below steps to get the maximum performance on GTA 5.
Graphics Settings for GTA 5 low end PCs:
Ignore Suggested Limits to OFF
Directx Version: Directx 11
Resolution: Default Monitor Resolution else 1280×720
Aspect Ratio: Default
Refresh Rate: Default Monitor Refresh Rate
FXAA: On
MSAA: 4x
Nvidia TXAA: Off
Vsync: Off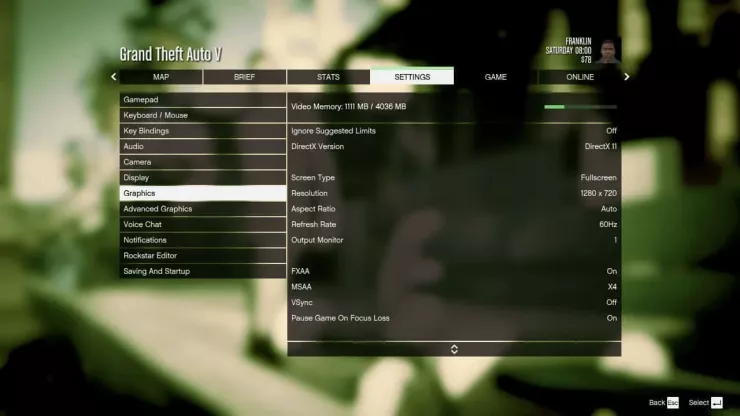 Gta 5 low end PC settings
Population Density: Low or Medium
Population Variety: Low
Distance Scaling: Low
Texture Quality: Medium
Shader Quality: Medium
Shadow Quality: Low
Reflection Quality: Low
Reflection MSAA: Off
Water Quality: Medium
Particles Quality: Low
Grass Quality: Medium
Soft Shadows: Sharp
Post FX: Normal
Motion Blur: Off
Depth of Field: Off
Anisotropic Filtering: Off
Ambient Occlusion: Off
Tessellation: Off
Advanced Graphics Settings for GTA 5 low end PCs: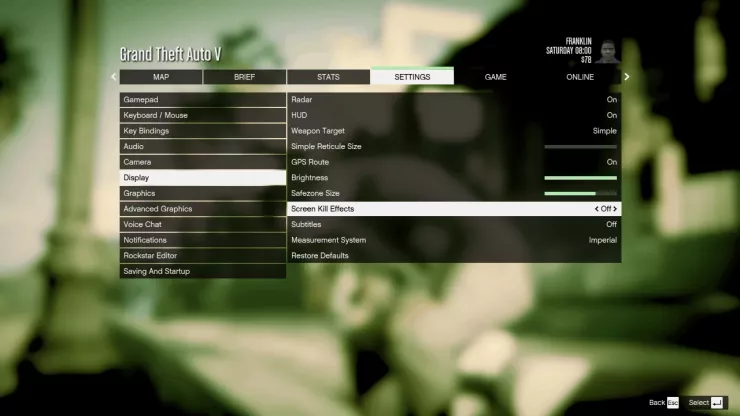 Disable Screen Kill Effects in Display
Long Shadows: Off
High-Resolution Shadows: Off
High Detail Streaming While Flying: Off
Extended Detail Scaling: Off
Extended Shadows Distance: Off
Frame Scaling Mode: Off
Furthermore, you also need to turn off the Screen Kill Effects and First Person Ragdoll in Display and Camera settings, respectively.
We hope this guide is sufficient to answer the question of "how to run GTA 5 on low end PCs". Interested in more of our posts related to the GTA Series? Please check out this article to find out more about GTA 5 Vs GTA San Andreas and which is the better game between them.